Chateau Jasmine and how to handle big dreams
Inviting ourselves and staying longer than planned
We did it again. We invited ourselves for dinner, stayed overnight, and all through the following day. This time at a smaller castle in Normandie. This time with someone we only met briefly as he was the host at a music festival we enjoyed participating in. 
There was something about this guy, something that felt like family - so I took his number and invited myself for dinner with my not very small family. My husband also had a very good feeling, and we went on a Friday afternoon, after saying goodbye to our lovely friends with whom we had been living for a week and a half. 
It is always a funny thing to do, inviting yourself. But on the other hand. When you just know there is something there … why hold back. Worst case, it is a no. 
In this case, it was very much not a no. We all felt there would be something to learn and maybe a friendship to explore from spending more time together. 

The adventure is the people. 
It was a lovely arrival, fashionably two hours late; we arrived at a fantastic scene of pushing branches aside for the van to be able to enter the premises. Finally arrived, we started grilling veggies and drinking champagne in the sun while playing music on the handpan and enjoying the generally lovely atmosphere of Chateau Jasmine. If you are ever in the area when he makes garden parties or music festivals or even the very special dinner nights in the garden, make sure you get your ticket. It is a unique and lovely vibe, just something you would not have imagined to find amid rural Normandie.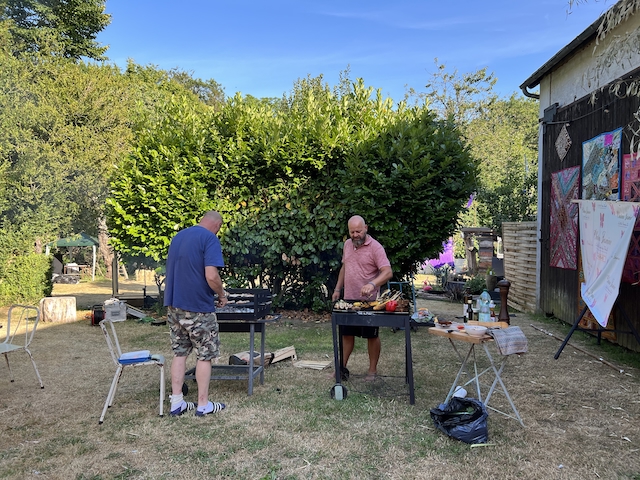 So we shared the evening with Garry and one of his very good friends. Our teenage group enjoyed the sofa immensely, to begin with, well, both of the sofas. The one inside was so comfy that one fell into a deep sleep before we even had dinner and woke up happy and beautiful just in time for eating. The one outside is just a luxury item in this garden, hanging in the right corner with comfy rugs and pillows and the big lovely sofa.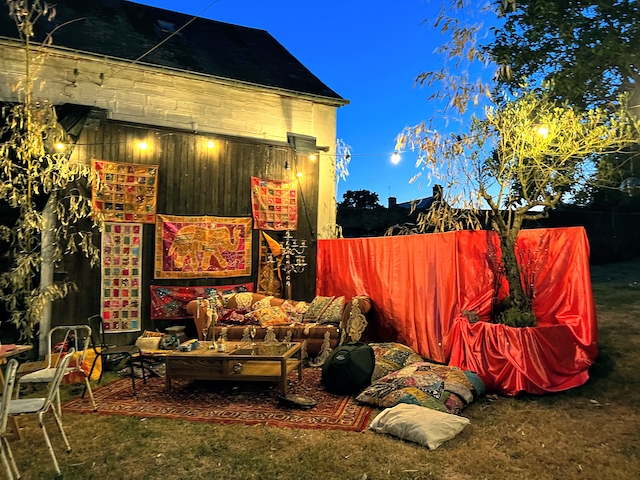 As night fell, we enjoyed sharing stories and just enjoyed spending time with like-minded people. 
How can I explain this? In our travels, we immensely enjoy the unique places we arrive at and take in. We enjoy architecture, art, music, nature, and culture. But what makes it all fly is the people we meet. Their stories, their vibes, their journey. With Garry, it was a match on most levels. All of the important ones. We enjoyed each other's company over dinner, during nightfall, becoming tired, listening to music, laughing, and discussing spiritual life and everything else. When we finally gave in to shut the music and the garden light, my youngest son was so comfy on the outdoor sofa, enjoying the stars and the silence, so we discussed the night sky and how lovely and beautiful this universe is before saying goodnight and seeing you tomorrow. 
Morning coffee at the stairs
Chateau Jasmine has four stone dogs guarding the stairs leading up to the front door. The spot stars shade in the morning, as did the parking of the van under the maple tree. We spend two good hours of morning coffee between and at the two locations.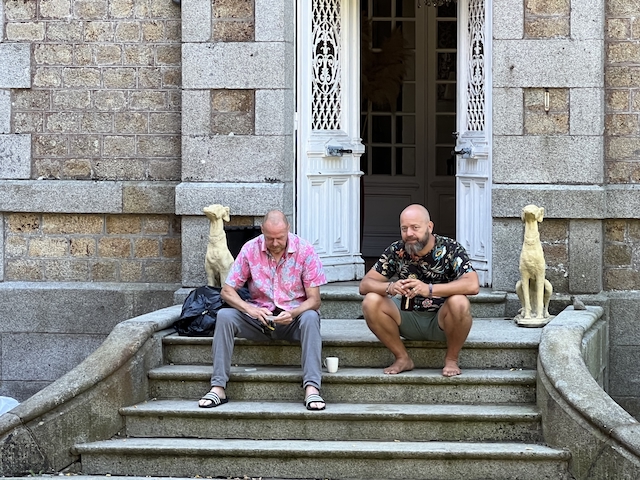 The thing is this. Some people are just right to teach you certain things. Some people will push the right buttons at the right time. And if you are ready for it, open-minded, and ready to share what you have to give, this is what life will offer you: The right people at the right time, always. 
If you are the smartest person in the room, get up and leave! This is a confronting life rule, but it does apply. Be friendly and share, but leave. Go to something and someone inspiring. Someone who will believe in you to take the next step. We teach our children this, and we live it. We discussed it with Garry, and obviously, there is no such thing as being the smartest person; more precisely: If you can not learn anything from the situation, leave it. 
Over coffee, we kept talking about life, general life rules, stories, and plans for the future. We saw the stars shine in each other. Garry is at the top of the pop of sound engineering and rising through this world of music; he has lived life very different from ours, yet very much the same: full of travels, adventure, people, and places. Doing his own thing. Dreaming big. 

Stonehenge-ish discovery in Normandie
There is a funny balance between planning for adventures and seizing the moment. At Garry's place, it felt apparent we had to postpone the plans to let it all unfold a bit more. He wanted to show us a stone construction he had found while exploring the land bits that came with the caste, a construction as old as Stonehenge and somehow may be connected with it. It was just a tiny walk from his house. 
So, when we were finally done with the slow morning, we did a little local walk. We saw the two chapels built by the two castle/mansion owners of the village about a hundred years ago. The story is as they go: One castle owner builds a small chapel for private prayers, and the neighboring castle owner does not want to look like he does not have one, so he builds one right next to it - but bigger! It made us think about the battle between the Winter Palace in St Petersburg and Versailles in Paris. Same story on another scale. 
(I did not take any photos of the chapels, just video, so you will have to use your imagination here)

Coming around a corner at the edge of a field to one side and a small piece of forest to the other was the stone setting: Table aux diable - a funny name for it. It has probably been a burial chamber; it looks very much like something we have seen up in the North, in Denmark - just this one was dug out of the soil covering it probably had in ancient times. Normandie bears its name after the Normans, ie, our people, so it makes total sense to find constructions just like the ones we see in Scandinavia when looking at the bronze age sites. 
Garry had found the stones under a pile of farmers' waste. Dug it out until he hit the stone, realizing professionals had to be called, and later donated the whole thing to the region, as it is a UNESCO-protected archeological site. What an adventure.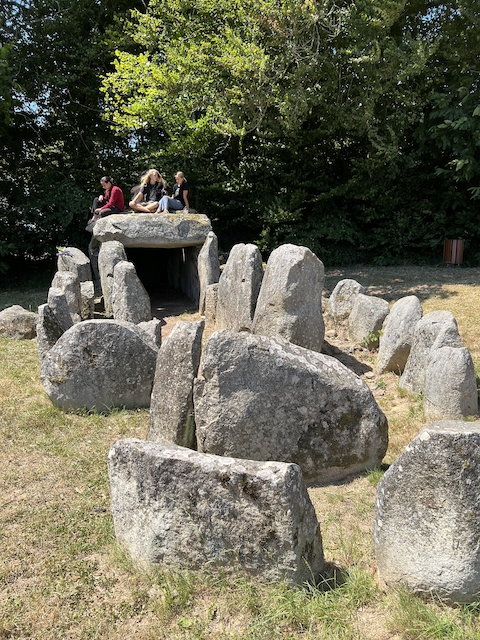 Even more magical, though, was the stone setting/ruins in the forest right behind the official site. This place was what was left of an ancient village; maybe this had been the church, as the burial site was right next to it. The stones are covered with moss, the light through the trees so beautiful, the energy so high it is hard to explain. Our hearts beat, and everything recharged; we walked barefoot on the stones and sat for a while, breathing. 
As I said. The adventure is the people. Their stories, their personalities, their unique vibes and souls - and all the things they know of locally, sharing with you what you would not have found on your own. We might have found the Table aux diable, but not the magical place 200 meters from it.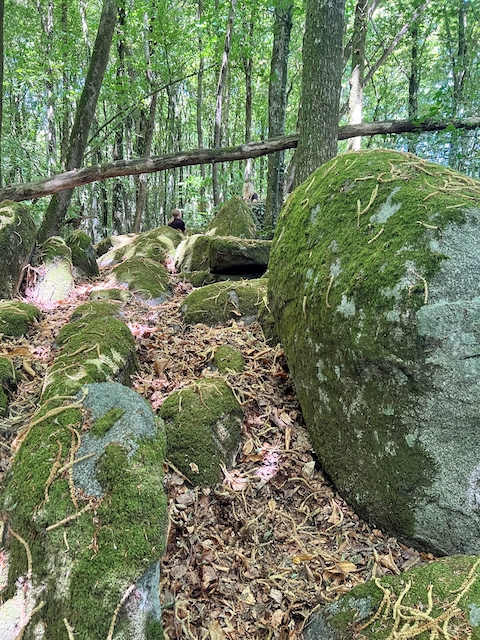 Grateful and recharged, we walked back to Chateau Jasmine to have lunch and more conversations, just laughing but also genuinely seeing each other. It is so lovely to meet people who can see through all the BS and just be, who want to create a better world, who is truly honest with themselves, and who believe in the best in you. This is how we felt about each other; not even afraid to talk about it, just open and happy and honest to the bone. 
It is mindset. Period.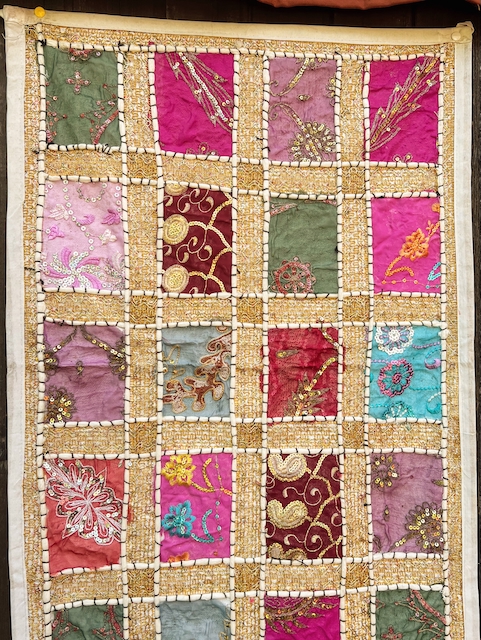 We had a lot of interesting conversations at Chateau Jasmine. One big thing was the mindset talk. It can be so provocative to say it out loud, and it is such a pleasure to dare say these things. 
Life throws all kinds of things at us, and sometimes life is not easy. Yet, we have the guts to say: It is not how it is. It is how we take it. We shared stories from this perspective and talked about how it is the most important exercise in life to learn to master your own mindset. 
Another interesting debate was about dreams; Garry has a great saying I will take with me:

"If your dreams do not scare you, they are not big enough."
Oh, how I can relate! This is such a powerful truth. I remember being so afraid of the bus, afraid of leaving my country, afraid of letting go - yet the dream was powerful; I had to do it. Now it is other themes and the same dynamic. 
It was late afternoon before we left Garry to have a bit of peace in the beautiful garden under the sun. Moving on to Bayeux, the illuminations of the cathedral, the cathedral itself, some unplanned haystacks, a 70 meters long embroidery, and some WW2 history.
Engage with us! We love it
What are your big dreams? Do they scare you? And why? Would you share with us the dangers to your mind? Please share in the comments below, or if you want to be more private, feel free to send us an e-mail sharing your story. We love people, don't forget. 
Have you read the latest articles by Cecilie Conrad?
Here you can find my latest writing - It is a mix of my blogposts and 2023 journaling. I hope you will enjoy it :) 
Where are we now?
Want to stay up to date with our travels and podcast? Then sign up for our weekly newsletter
We hate spam too. Unsubscribe at any time.